SPEEDBOX or SPEEDBOX MINI? - Standard SPEEDBOX Specification
Both the SPEEDBOX and SPEEDBOX MINI are very high accuracy non-contact speed sensors that have been designed for professional automotive testing as well as other industrial and high-end motorsport applications. They output a low latency, non-interpolated speed measurement comprised of GPS and inertial data combined using an adaptive filter for exceptional performance even in non-GPS ideal environments. Packaged in a high quality die-cast aluminium enclosures, and offering an extremely high reliability design based on our years of racing experience. The high accuracy speed measurement is output in a variety of forms suitable for integration into most datalogging and display systems; CAN, RS232, and a fully configurable digital pulse output are all provided as standard.

Using Race Technology's very own high accuracy 20Hz PurePhase GPS solution, optimised for speed measurement. This unique GPS technology outperforms all "GPS-only sensors", offering lower noise, lower latency and superior bandwidth, and is far more resistant to drop outs. It offers an ideal replacement/upgrade for 5th wheel, optical and gps-only sensors in a wide variety of automotive testing applications, including brake testing, accident reconstruction, and tyre testing to name but a few.
The SPEEDBOX and SPEEDBOX MINI avoid the inaccuracies, wear and calibration requirements of devices such as wheel speed sensors, requiring only a good view of the sky to give speed output typically 40 times more accurately than a calibrated wheel speed sensor.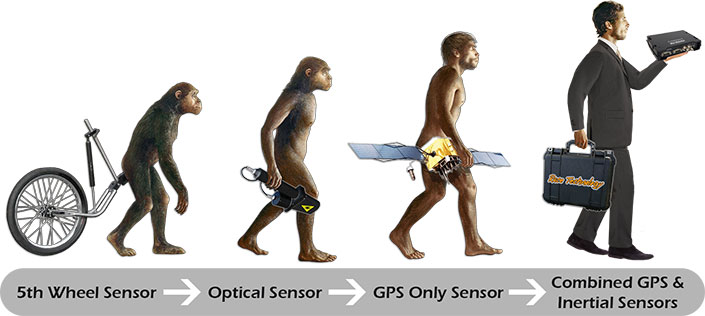 The SPEEDBOX offers a taller case, with addtional LEMO connectors for analogue inputs/outputs on the front panel. The configurable analogue ports offer inputs and outputs for combined speed, GPS or acceleration data.
The connector layout of the SPEEDBOX allows CAN data to be linked through easily using the dual connectors. The second serial port is available on either the D-type or USB connector.
The SPEEDBOX MINI is more compact and lower cost. Analogue inputs are available on a D-type connector as an addition option. The second serial port is only available on the USB connector for viewing data on a PC.
As standard specification the SPEEDBOX and SPEEDBOX MINI are suitable for general straight-line speed measurement testing and pedal triggered brake tests. With additional INS options and 2cm RTK absolute positioning options available for more demanding applications.