DL1 SPORT - Our entry level data logger

Initially designed over 10 years ago, but now in its 4th iteration, there are 1000's sold all over the world. With each iteration the DL1 SPORT has become tougher and more focused.
The DL1 SPORT system is very simple to setup and get started. With essential information coming from the internal GPS and 3 axis accelerometer, but with room for expansion with analogue sensors and ECU interfaces. Simple set up, professional data.
The DL1 SPORT, our entry level performance data logger.
The DL1 SPORT is perfect for new users and those wanting an easy to install and use system. It is also the ideal tool for users wanting to improve their driving at races and track days. Very simple to set up and use with user friendly configuration software, but still using high quality and proven hardware such as the 5Hz GPS system and digital accelerometer. The logger is expandable with a range of analogue sensors and ECU interfaces, and can also be connected directly to any of our range of dash boards and automatically syncronised with GoPro videos (QuickSync video licence required) in the Analysis software. The data from the DL1 SPORT can be loaded directly into Race Technology's widely acclaimed data analysis software to check lap times, check where time was lost and gained, and how improvements could be made using our simulation tool.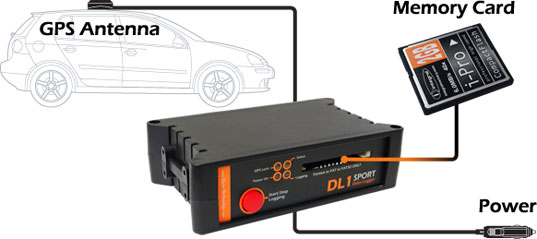 The Race Technology Analysis software is one of the key reasons to choose one of our data loggers. Packed with the powerful in-depth features of a truly professional tool, whilst maintaining an intuitive interface for new users to get started easily. Hover over the image below for a brief explanation
Logs data to CF memory card - up to 32GB
Check braking points and grip usage with the built in 3-axis accelerometer
Sample channels at up to 100Hz
Add ECU data or external sensors to record and analyse engine health and performance
Optional GoPro QuickSync video licence for synchronised HD video and DL1 data in Analysis software

The Race Technology V10 software package is free to download and can be downloaded and tested from here
Why choose a DL1 SPORT data logger?
Our GPS data loggers do more than just collect the data, they allow all the data to be referenced to not just time, but also to a position on the track. This allows the data to be interpretted in a meaningful and understandable way, referenced clearly to the real world: Pick a corner and see how you braked, how much grip you used and where, then how, you exited. Compare what you did on your fastest time through the sector and learn where you can go faster.
Review your braking points and grip usage with the built in 2g 3-axis. accelerometer (optional 6g enhancement available for high downforce applications).

Capable of detecting minute changes with 100Hz update rate on all sensor and accelerometer channels - 8 analogue sensor inputs ready for additional sensors.

Lap and sector timing, in the software, or live with a DASH2 or DASH4PRO display.

Get the most out of your engine by logging information from your

ECU

Add automatically syncronised GoPro video to data analysis with the QuickSync video licence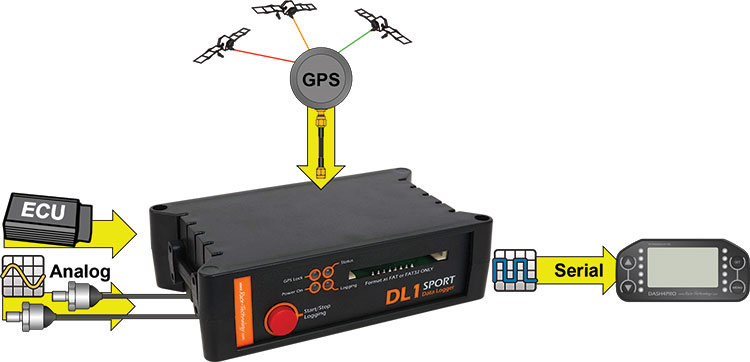 The DL1 SPORT can be used standalone, or in combination with our other products including: