DASH2 - Dashboard for the road and race track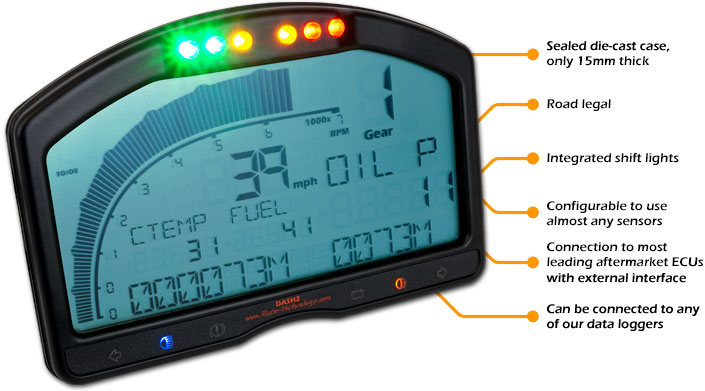 The DASH2 is one of Race Technology's most popular products. Housed in a sealed die-cast case, the DASH2 can be used either standalone or with our range of ECU interfaces and data logging products. It is fully road legal, but also used extensively in race applications.
When used in standalone mode, the DASH2 can connect to four sensor inputs, for example water temperature, oil pressure, fuel level and boost pressure. These sensors can be from Race Technology, or almost any 3rd party sensor. It also has inputs for RPM, speed, non-resettable odometer and warning lights for full road legal operation.
When connected to an ECU using one of our interfaces, the DASH2 can display any of the channels output by the ECU. The channels depend on the ECU model, but normally include throttle position, boot pressure, exhaust lambda, air temperature etc.
When the DASH2 is connected to one of our data loggers, it can be further configured to display many more parameters including real time lap and sector times calculated from GPS data, any available analogue measurements (e.g. temperatures and pressures), RPM, wheel/shaft speeds etc. The actual data displayed can be set up for the user's specific requirements. You can also set independent alarms for all channels.
PLEASE NOTE: If used on a motorcycle or open cockpit car please specify this at the time of ordering and we will add extra waterproofing to the DASH2 free of charge.
The DASH2 features:
Compact, slim, flat and easy to install diecast aluminium enclosure

Road legal

, everything required for an MOT or SVA testing

High contrast, high visibility custom LCD display with EL backlight.

Configurable RPM bargraph with user defined scale and shift lights

4 analogue inputs - channel naming and scaling are fully user-configurable

Non resettable and trip odometer

Gear position indicator

Configurable alarms on all input channels

Inputs for four external switches to control operation and some setup options

Warning lights for headlight main beam, left and right indicator, rear fog light, alternator output and brake malfunction

Set up in mph/miles or km/h / km

5 user defined screens of data

5V reference output to drive external sensors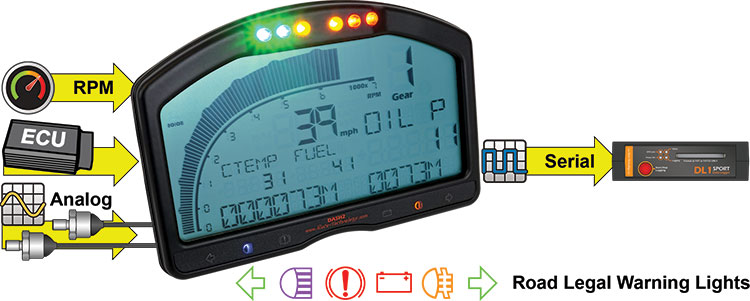 When connected to a Race Technology data logger, the following features are available:
Up to 16 additional analogue data channels

Up to 4 additional frequency input for wheel speeds and shaft speeds

Lap and sector timing as well as predictive timing

Lap counter
A video introduction to the DASH2 is shown below: