RT LIVE Motorsport - Online motorsport data logger with telemetry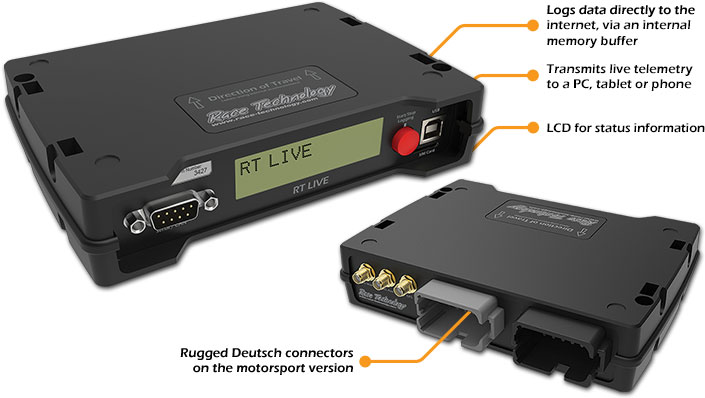 For a demonstration of the RT LIVE web interface click here.
RT LIVE Motorsport gives full remote access to vehicle data over a wireless mobile data network internet connection. Data files stored on the unit can be accessed over the internet, and all inputs to the device can also be monitored in real time over the internet using any web browser (including Apple and Android products) as well as on a PC. Housed in a die-cast aluminium enclosure and using high qality Deutsch connectors, the RT LIVE Motorsport is ideal for all racing applications.

Information available via live telemetry includes:
Lap times

ECU data

Speed and position on the track

Alarms e.g. low oil pressure

General variables e.g. fuel level, water temperature etc.

Send simple messages back to the car dashboard, e.g."

Pit Now

"
For basic applications the unit can be used standalone and in this case the installation is very straightforward. Simply connect 12V power from the vehicle, along with the supplied mobile data network and GPS antennas and it is ready to stream live data or record data to its internal memory for periodic download over the internet. For more advanced applications the unit can be used as part of a system that includes almost any combination of Race Technology products (such as the DASH2 PRO and DL1) as well as external CAN sources and analogue sensors.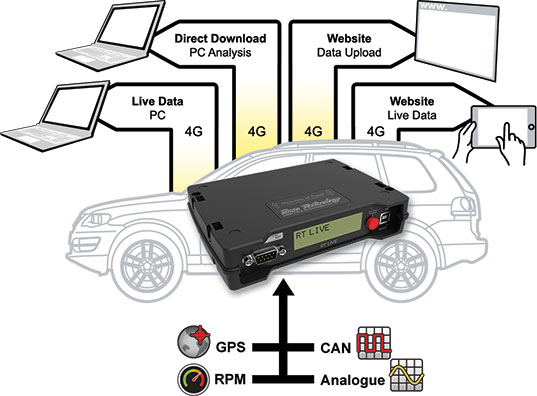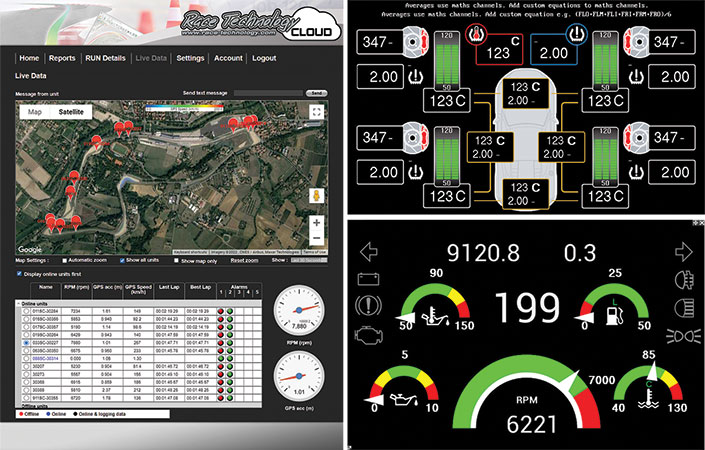 For a demonstration of the RT live web interface click here.
All information can be continuously uploaded over a mobile data network connection to a server. When a mobile data network connection is not available the data is buffered in the RT LIVE internal memory and uploaded to the server the next time a mobile data network connection is available. Once uploaded, the data is securely stored on a cloud server as standard format Race Technology data (RUN) files which are compatible with all Race Technology software, including the comprehensive data analysis package.
RT LIVE uses some super capacitors to ensure that the unit continues to operate for additional 5 seconds so it can upload any buffered runs if the external power supply is interrupted. Data streaming is automatically started and stopped based on either vehicle movement, or whenever the unit has power, alternatively it can be controlled manually from the start/stop button on the RT LIVE, or a connected Race Technology DASH4PRO dash display unit.
Each RT LIVE unit is registered on the Race Technology website before first use. Either a single unit can be registered to an account, or a batch of units can be registered together for ease of management of a race series. The SIM card is user accessible and any data SIM can be used to stream live data.

What are the costs of RT LIVE?
| | |
| --- | --- |
| | The main cost is purchasing the unit. Purchasing the unit also includes 12 months of all-inclusive data services (see section 3). |
| | Supplying a data SIM card. SIM cards are accessible to the user, we recommend a fixed term data SIM like the 24 month/24 GB prepaid SIM that we sell. |
| | Data services charges. There are some ongoing charges charges for data services; for example, live data, data storage, sending notifications and reports. The first 12 months all-inclusive are included for free when you purchase a unit. Each additional 12 months all-inclusive is available for £200 as an annual charge, or £500 for 5 years. |
What are the benefits of RT LIVE?
The automatic data upload means no collecting memory cards, and no waiting around copying data files; for a race series this can save hours of work. For an individual it's simply one less job to do. The live telemetry allows monitoring of channels and alarms that can be set to enforce rules and regulations, or monitored by a pit crew to prevent mechanical failures.

How fast are the live telemetry updates?
Live data viewed on an internet browser is updated at 5Hz. Live data updates directly to the PC based software can be up to 100Hz (depending on conditions and local internet speeds).
RT Live AiM interface - decoder cable

An AiM decoder cable is available to add the live telemetry functions of the RT Live to AiM devices. The decoder cable decodes the data stream from the AiM device and transmits the data using the RT Live over the internet, allowing live telemetry and online storage of recorded data.

Note: To use the AiM decoder cable a CAN licence is also required in addition to the cable.

For details on channels available please visit our knowledge base here

Compatible with:

AiM Dash Loggers: MyChron4, MyChron5, MXG, MXL, MXL Pista, MXL Pro05, MXL Strada, MXL2, MXS and SoloDL AiM

Data Loggers: EVO3 Pista, EVO3 Pro, EVO4, EVO4S and EVO5

AiM Bridges: ECU Bridge

Please note: It is not possible to send live dash messages to AiM displays, only to Race Technology displays like the DASH4PRO