RTSS L Scrutineering System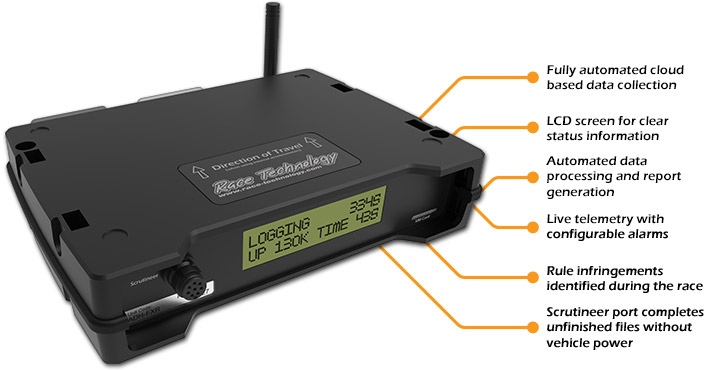 With fully automated cloud-based data collection, report generation, remote management and live telemetry
Automatic data collection
Race data is automatically uploaded from all cars in real time to a cloud server.
This gives two major benefits:
There is no requirement to manually download data from all cars after the race, so less on-site support is needed
Rule infringements can be identified during the race, so any judgements can be in place before the podium presentations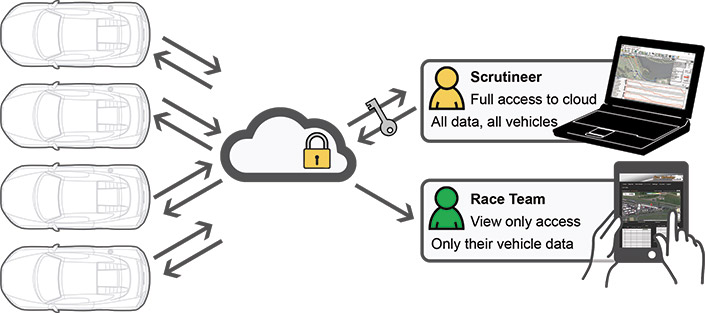 Automated data processing & report generation
Since the race data is stored on the cloud server, it can be accessed from anywhere in the world. For most applications, our servers can process and automatically report on measured parameters. The results can be automatically emailed, or downloaded from the web interface. Alternatively, if the data needs to be checked manually for compliance, this can be done by an office based engineer without the need to travel to the track. This simultaneously increases the data quality and reduces the cost of operating the system.
RTSS Rear Connectors
Remote management
For large grids it is an especially challenging task to ensure that all systems are installed, operational, and correctly configured. Common issues with traditional scrutineering systems include damaged GPS antennas and interrupted CAN connection – which can only be diagnosed by physically checking every car. If there are any issues with the RTSS operation, this can be quickly identified from the on-line interface. If a unit needs to have the configuration updated, for example to access more data from the vehicle CAN, such changes may also be uploaded to each device remotely, either for the whole grid or on a car-by-car basis.
Live telemetry - General
View data live from every vehicle in the race series on almost any internet enabled device. The live data can include any combination of lap times, vehicle CAN messages, additional sensor channels and high accuracy GPS data. The live telemetry has applications in not only scrutineering, but also race management applications. Furthermore, as well as the web and PC based telemetry, it is also possible to set up event-based automatically generated emails and SMS messages.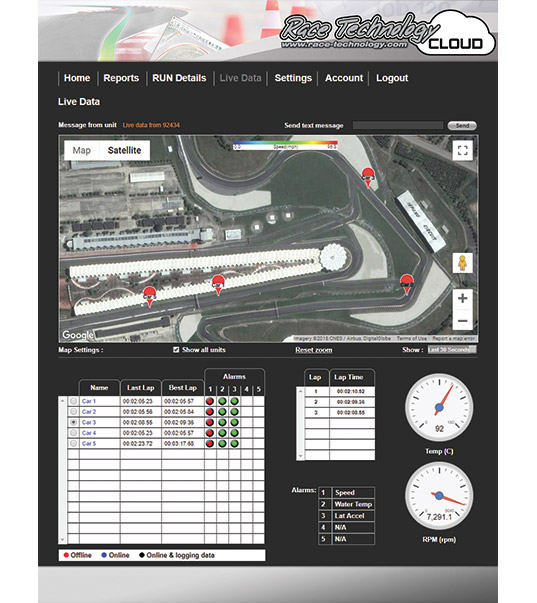 Live Monitor software, with its configurable "Virtual Dashboards" can be used to graphically display more specific live telemetry data for a single vehicle.
Complete data security with local backup and power backup
Whilst the advanced features and automatic data collection are what set the RTSS L apart, nothing is more important that ensuring that at the end of each event there is a valid data file from every car. While the RTSS L is designed to log exclusively to the internet, to ensure that RTSS L offers maximum robustness, data is logged to internal memory and can be downloaded using the scrutineer port should there be an issue such as a broken data antenna. In addition the RTSS L also offers the option for connecting a small backup battery to ensure that the system continues logging even if main power is lost.
Team access and services - Live telemetry
Where championship regulations permit, individual teams may also be granted access to their data. Access rights are determined by the championship organiser and may for example include read-only access to stored data (which can be analysed using the Analysis software) or even access to live telemetry on any web enabled laptop, tablet or smart phone. As well as the general live telemetry data, teams can monitor specific variables on their vehicles by using the configurable "Virtual Dashboards" in the Live Monitor software. Multiple virtual dashboards can be viewed at the same time.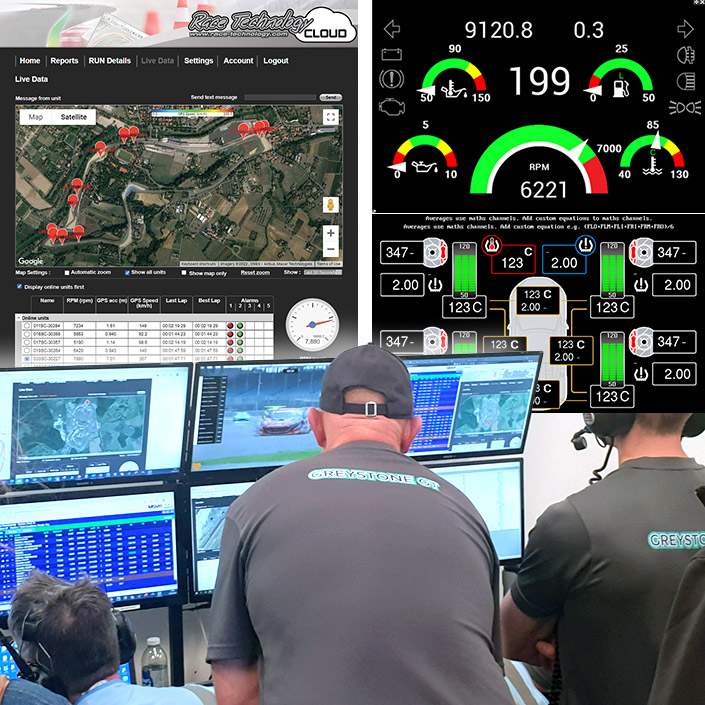 | | |
| --- | --- |
| | There are ongoing charges for the RTSS L cloud data services and live telemetry. We can discuss these charges and your championship's requirements as part of a complete technical support package. |